DELIVERY

Our simple freight philosphy explained
* Spend $200 up and Australia wide shipping is for free to **any address when we give the courier authority to leave the goods at your door, removing the need to hang around and wait for the delivery. If instead you want to sign for your goods and enjoy the convenience of a redelivery at your leasure, please select the "signature on delivery" option instead currently priced at $29.95. The small fee charged for this sevrice allows us to pay for your redelivery costs.
* Excluded weight limits - An allowance of 25 grams per dollar spend is given to balance the ratio of weight of goods vs order value. This is done to prevent our losses against excessively heavy orders that are low cost travelling to remote destinations. Where the ratio exceeds 25 grams per dollar spend and the total order value is less than $1000 or travelling more than 1500kms from postcode 2259 we reserve the right to charge an additional amount for the freight. We will contact you first to advise of any extra amount and seek your written approval, if you do not wish to accept the addiotional amount we will terminate the order and refund any monies already paid.
** Excluded shipping locations - Some post codes in remote areas must be quoted directly. These postcodes are listed below. For orders less than $200 and weighing less than 5 kilograms we provide the option of Australia post regular parcel service or express post.
How quickly can I receive my purchase?
Your order can be delivered as quickly as the next business day, right to your door if ordering and paying before 12PM on any Monday through Friday and if you reside in any overnight zones such as Melbourne, Sydney or Brisbane. If you would like to get an exact estimate to your suburb, please use the transit estimator link. The originating suburb is Wyong NSW 2259.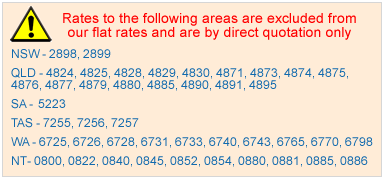 I live in a really remote area, will you still ship at your quoted flat rate?
Unfortunately our prices are boned such that we cannot absorb freight to remote areas. By this we mean islands and communities that are mostly serviced by barge. Below is a table of excluded post codes. We can still ship to you however the freight charge will need to be calculated and quoted first.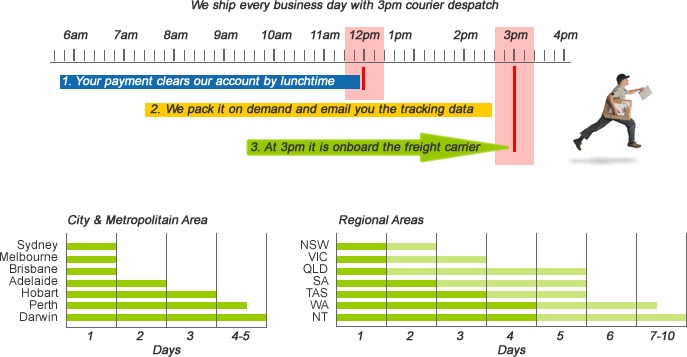 How do I track my package once shipped?
Once your order is shipped from our warehouse, an email is sent to you containg details of your con note and details of how to go about tracking the consignment. To take a test drive of the tracker before you order click here and enter con note number VTR00755. This package was sent close to a year ago to Melbourne and took only a day to arrive.
Are my goods insured in transit?
Your goods are insured automatically up to $10,000 per shipment within Australia however there is a $400 excess on any claims. If you would like to insure your goods directly with the freight carrier you may do so at the rate of $25 per order with a minimum insured amount of $1000.
How well are the goods packaged?
All goods are tested and inspected in our warehouse prior to packaging. We go to extra ordinary efforts to ensure freight damage does not occur. After packaging with foam and enclosing your tax invoice we strap the boxes with poly strap to ensure they withstand the rigours of an Australia wide journey to your door.
What if I am not home during the delivery attempt?
If you are not available to have the package accepted at your designated delivery address, the package will be left at your door if you elected free delivery. If instead you chose to pay for "Signature on Delivery" the goods will be returned to the depot and a card left so that you may arrange a delivery at a time that suits you. The cost of this process is absorbed by us.

What are the terms and conditions for carriage of goods?
The terms and conditions for Startrack Express are available in PDF format at the following link . Please note: Startrack Express is not a common carrier and accepts no liability for loss of goods in transit or non delivery by the due date. Goods shipped with authority to leave (a.k.a free delivery) cannot be insured.
Goods shipped where a signature is given by the recipient are insured by Tokentools Pty Ltd automatically via a third party insurer however there is an excess of $400 for any claims. Tokentools Pty Ltd cannot guarantee delivery will be effected by the estimated date as it hands over control of goods, on your behalf, when they are collected.
Estimated Delivery Time: If goods are purchased to be used or installed for a specific date and are not delivered due to the actions of Startrack Express, Tokentools Pty Ltd will undertake to refund the purchaser less any shipping fees accumulated provided the goods were ordered such that their estimated delivery date fell at minimum 30 calendar days prior to the date that the goods were required. It is the responsibility of the purchaser to return the goods to Tokentools Pty Ltd within 7 days after the actual delivery date in such circumstances.
If you have concerns about using startrackexpress.com.au we can assist in the collection of goods from our premises by your own carrier.

I have more questions, may I speak to someone?
You are certainly welcome to call our sales staff on 1300 881 991 between 9AM and 5PM Monday through Friday.
Welding Supplies