Product Description
AC DC Tig Welder - The Tokentools Alupulse 200 Inverter ACDC Pulse Tig Welder is a 240 volt full arc control, AC & DC TIG / MMA, HF TIG welding power source. Loaded with features like high frequency start, up and down slope, adjustable AC frequency with a massive 10 to 300Hz range, repeat (latch) function, MMA welding functionality you've got the penultimate unit designed for precision AC DC TIG / MMAW welding of all weldable materials.
The Tokentools Alupulse 200 ACDC Tig welding machine features push button activated HF Arc Ignition and a Gas Solenoid for automatic control of the shielding gas. A large capacity fan ensures years of high duty cycle operation. Operation is quite straight forward via the oil /acid resistant membrane control panel and the steel case will provide superior protection against accidental bumps.
All IGBT transistors are manufactured by Infineon, chosen for their ability to provide dependable power in the toughest of environments. With the Tokentools Alupulse 200 you will have one tough inverter AC DC TIG MMA welder ready to attack and conquer any welding job you put to it.
Product Features & Specification
Condition (?)
New
Brief Overview (?)
(
?
)
Branding not only helps you recognise quality products, a brand that has an Australian trademark can be tracked to a physical owner. This generally provides more certainty about the authenticity of a product because the contact details of the brand owner are on public record.
Tokentools
5 Years Parts & Labour
1 x 240 Volt 15 Amp Supply - Single Phase
AC Tig Welding
DC Tig Welding
DC MMA Welding
2T / 4T Trigger Latching
Welds Aluminium
Welds Stainless Steel
Welds Other Metals
Adjustable AC Welding Frequency
Adjustable AC Balance / Cleaning Action
Pulse Welding Mode
Adjustable Pulse Width / Duty
Adjustable Pulse Welding Frequency
Arc Force
Post Flow Shielding Gas Timer
Up Slope
Down Slope
Push Button Start HF Ignition
Preset Amps Control / Display
(
?
)
The inverter welder design is either IGBT or MOSFET
IGBT - Siemens / Infineon Power Transistors
L50cm x W23cm x H44cm
Weight - 25 Kilograms
Tig Welding Features (?)
(
?
)
This is the method of arc ignition. It consists of pushing the start button on the torch to enable an automatic arc strike.
Push Button Start (HF)
(
?
)
The ability to activate and deactivate shielding gas and also provide post flow
Electric Solenoid activates when torch trigger is pressed
Postflow - 0 to 25 seconds
Preflow - 1 to 25 seconds (Available by pressing torch trigger briefly and activating post flow cycle)
(
?
)
The settings that enable control of the welding waveform
AC Balance - 20% to 80%
AC Square Wave Frequency - 10Hz to 300Hz
AC & DC Pulse Width
AC & DC Pulse Frequency
DC Amps 5 to 200
AC Amps 20 to 200
(
?
)
AC is used for aluminium welding and DC is used for other metals
AC Square Wave
DC
(
?
)
Amperage and frequency range available when using pulse welding mode
Pulse Duty - 10% to 90%
Pulse Amps AC - 20 to 200
Pulse Amps DC - 10 to 200
Pulse Frequency - 0.5Hz to 25Hz
(
?
)
A feature required if you wish to use a variable amps torch or else a foot pedal
Yes
Foot Pedal Compatible
Variable Amps Torch Compatible
(
?
)
Slope control is used to increase amps over time from crater amps to welding amps (up slope) or from welding amps to final crater amps (down slope)
Yes
Up Slope - 1 to 5 seconds
Down slope - 1 to 5 seconds
Available by selecting 4T mode
Start Crater - Fixed @ 20 Amps AC and 10 Amps DC
Finish Crater - Fixed @ 20 Amps AC and 10 Amps DC
MMA Welding Features (?)
10 to 160 Amps
(
?
)
The current waveform is either AC or DC. DC is preffered as it is delivers constant welding power to the electrode and provides ease of start when using cold electrodes.
DC
Duty Cycles
160 Amps @ 100% Duty
200 Amps @ 60% Duty
100 Amps @ 100% Duty
130 Amps @ 60% Duty
160 Amps @ 35% Duty
What is in the box?
1 x Alupulse 200 Inverter Welding Power Supply
1 x 4 Metre Binzel Compatible 26 Series Ergonomic Tig Torch
1 x 3 Meter MMA Twist Lock Torch and Cable
1 x 3 Meter Job Clamp and Cable
1 x Reinforced gas Line
1 x Tig Torch Accessory Kit
1 x Instruction Manual
Product Manual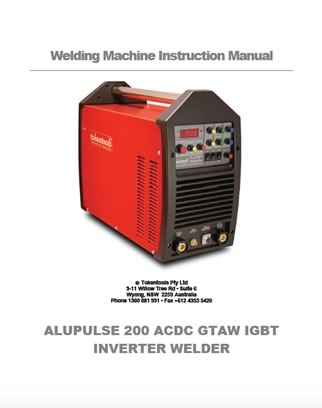 This product manual is provided for easy internet download and viewing, the file size is 22 Megabytes, click on the image above to begin the download process. A printed colour manual is also provided with the welding machine.
Shipping & Warranty
Warranty
This welding machine includes a 5 year (60) month warranty against manufacturing faults and defects however the customer has the ability to reduce the warranty period in order to obtain a greater discount. In circumstances where the customer elects to take a 2 Year or 1 Year warranty the 5 Year warranty will no longer apply and instead the selected warranty period along with applicable discount will apply and such direction will be noted on the sales invoice.
All welders for sale by Tokentools.com.au are covered by Consumer Guarantees that cannot be excluded under the Australian Consumer Law. You are entitled to return any item that is deemed faulty within a reasonable timeframe from the date the sale agreement took place. If an item has a minor defect, we will provide a repair or offer you a replacement or a refund. If an item is found to have a major manufacturing defect, you are entitled to receive an identical replacement or one of similar value, receive a refund or keep the goods and receive compensation for any other reasonable foreseeable loss or damage. For more information about your rights as a consumer, see the Australian Consumer Law website at http://www.consumerlaw.gov.au
Delivery
Our products are typically despatched from our warehouse on the same day if payment is made before 2PM.
All of our orders are despatched quickly. We don't like you to wait for your purchases. In fact over 90% of deliveries to major metro areas across Australia's East Coast arrive within 2 business days from the day we confirm payment (that's same day for credit card and PayPal orders). West Coast orders take 4 days longer. If you live in a regional area then we suggest you allow up to 4 additional days for your goods to arrive. A tracking number will be emailed to you upon shipping of your product and you will be able to get an ETA delivery date fro that source
This welding supply is also available for pickup from our showroom located at Unit 6, 9-11 Willow Tree Rd Wyong NSW 2259 during opening hours. See the pickups information for more details.
Product Reviews
Customers Also Purchased
Welding Product Taxonomy