Plasma Cutting Guide Kit for BOC40 Tecmo 706H Plasma Cutting Torch. Complete Guide Kit for the Workshop Professional. Cuts circles and straight lines with ease and control.
This guide kit fits BOC40 Tecmo 706H Plasma Cutter Torch

Includes industry leading Roller Guide
Cuts circles from 45mm to 1050mm diameter
Optimum tip height at all times
Unique rotating bush allows circles to be cut from one position by turning guide frame
Magnet Pivot for increased stability and efficiency
Suction Pivot for use with non-ferrous metals
CNC machined quality parts, brass forgings, stainless axles and rails
Spare parts available with priority shipping.
The unique design of this quality plasma cutting circle kit allows the operator to hold the torch in the same axis whilst the entire jig rotates around the centre spigot. This motion is achieved by a CNC machined bush that is retained within the jig by way of a circlip allowing for the rotary motion to take place with ease. The plasma cutting circle kit includes the torch bush, the roller guide, the magnetic pivot and also the suction pivot, radius arm and circle cutting guide.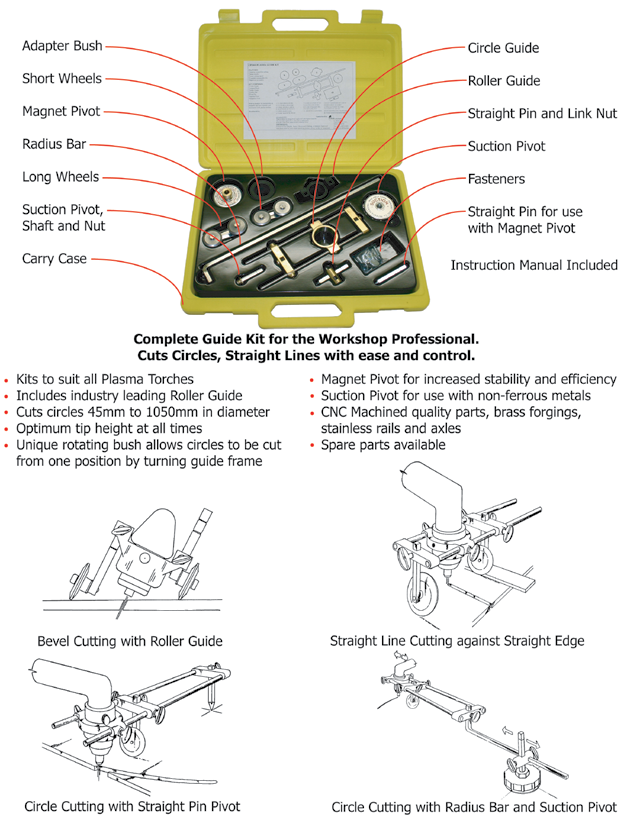 Suitable For The Following Plasma Cutters