The mepBLITz DC – i5 is the latest model of mobile electro-polisher in the mepBLITz range.
Featuring robust "Patented Inverter Technology" which allows it to deliver up to 150 amps of cleaning speed, three times the speed of its predecessor and by far the fastest machine worldwide.

The mepBLITz DC – i5 is the first machine of its kind to have an optional bath add on for complete immersion of the workpiece. The bath is liquid cooled and holds 40 litres of polishing solution. No more sending those small items off to be electro-polished and having to wait to get them back, not to mention the cost involved.

Proudly Australian made in all stainless steel construction and only weighing 10 kgs dry, less than half the weight of its predecessor. Most machines on the market can only polish at a speed of 15 to 35 amps compared with the blistering speed of the new mepBLITz DC – i5. If you want the best in quality finish and speed then you need the new mepBLITz DC – i5.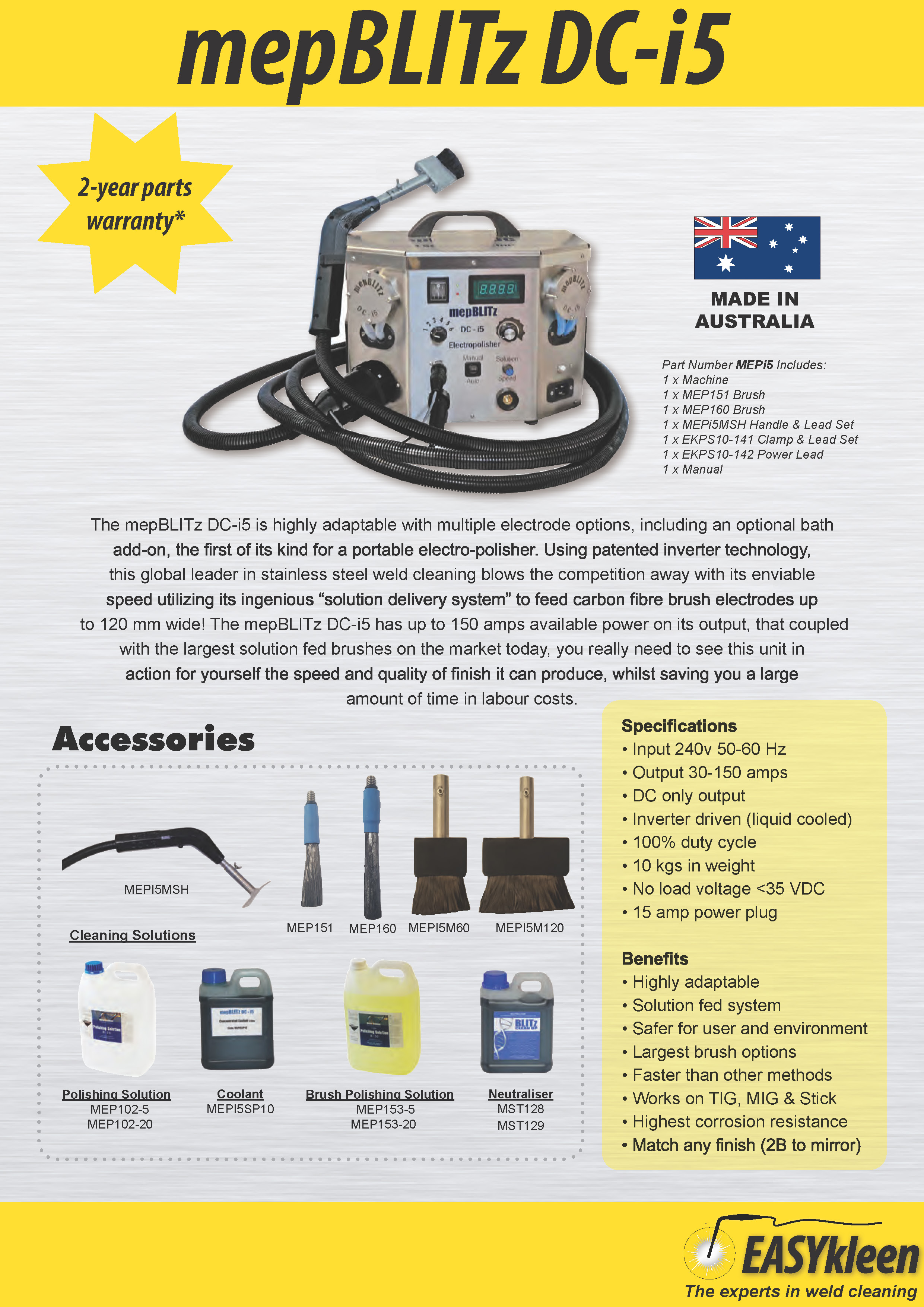 With a huge range of carbon fibre brushes to cover all types of weld geometry and with an IGBT inverter core design and massive 150  amps of available DC output power, the mepBLITz DC – i5 is a cost effective unit whilst still providing the benefits of the electro-polishing process. Unlike cheap and inferior methods, the mepBLITz DC – i5  system is scientifically proven to inhibit corrosion by avoiding the pitting associated with excess voltage and current and can match any finish from 2B to mirror.
• Input 240v 50-60 Hz
• Output 30-150 amps
• DC only output
• IGBT Inverter Drive
• 100% duty cycle
• 10 kgs in weight
• No load voltage <35 VDC
• Generator safe
• Simple to use
• Safer alternative
Brief Overview
Manufacturer

Branding not only helps you recognise quality products, a brand that has an Australian trademark can be tracked to a physical owner. This generally provides more certainty about the authenticity of a product because the contact details of the brand owner are on public record.

:
Power Requirement:
1 x 240 Volt 10 Amp Supply - Single Phase
Warranty
This product comes with a 2 year (24) month warranty against manufacturing faults and defects.
All items sold by Tokentools.com.au are covered by Consumer Guarantees that cannot be excluded under the Australian Consumer Law. You are entitled to return any item that is deemed faulty within a reasonable timeframe from the date the sale agreement took place. If an item has a minor defect, we will provide a repair or offer you a replacement or a refund. If an item is found to have a major manufacturing defect, you are entitled to receive an identical replacement or one of similar value, receive a refund or keep the goods and receive compensation for any other reasonable foreseeable loss or damage. For more information about your rights as a consumer, see the Australian Consumer Law website at http://www.consumerlaw.gov.au
Delivery
Our products are typically despatched from our warehouse on the same day if payment is made before 2PM.
All of our orders are despatched quickly. We don't like you to wait for your purchases. In fact over 90% of deliveries to major metro areas across Australia's East Coast arrive within 2 business days from the day we confirm payment (that's same day for credit card and PayPal orders). West Coast orders take 4 days longer. If you live in a regional area then we suggest you allow up to 4 additional days for your goods to arrive. A tracking number will be emailed to you upon shipping of your product and you will be able to get an ETA delivery date fro that source
This product is also available for pickup from our showroom located at Unit 6, 9-11 Willow Tree Rd Wyong NSW 2259 during opening hours. See the pickups information for more details.