The EASYkleen Pro S-10, incorporates the high duty cycle power of an IGBT inverter core but keeps the ease of use of the EASYkleen Plus Brush. The proudly Australian made unit utilises the same IGBT drives of the mepBLITz DC-i5 and capable of an impressive 100amps, the EASYkleen Pro S-10 is ideally suited to fabricators performing regular medium to heavy work loads.

The EASYkleen S10 power output can be accurately set via the conveniently positioned front panel power level dial which gives the user ultimate control in determining the output, which can be easily adjusted depending on a range of variables such as material thickness and desired finish.
A further benefit is the wide range of brush consumables to suit the astute user's needs.
The EASYkleen S10 features a full 5 year parts and labour warranty with 10 years total parts warranty also.
When you have finished that last weld on stainless steel with your tig brush away any surface dust and reach for an electroplishing machine weld cleaner that is both lightweight and very portable, time saving and cost effective.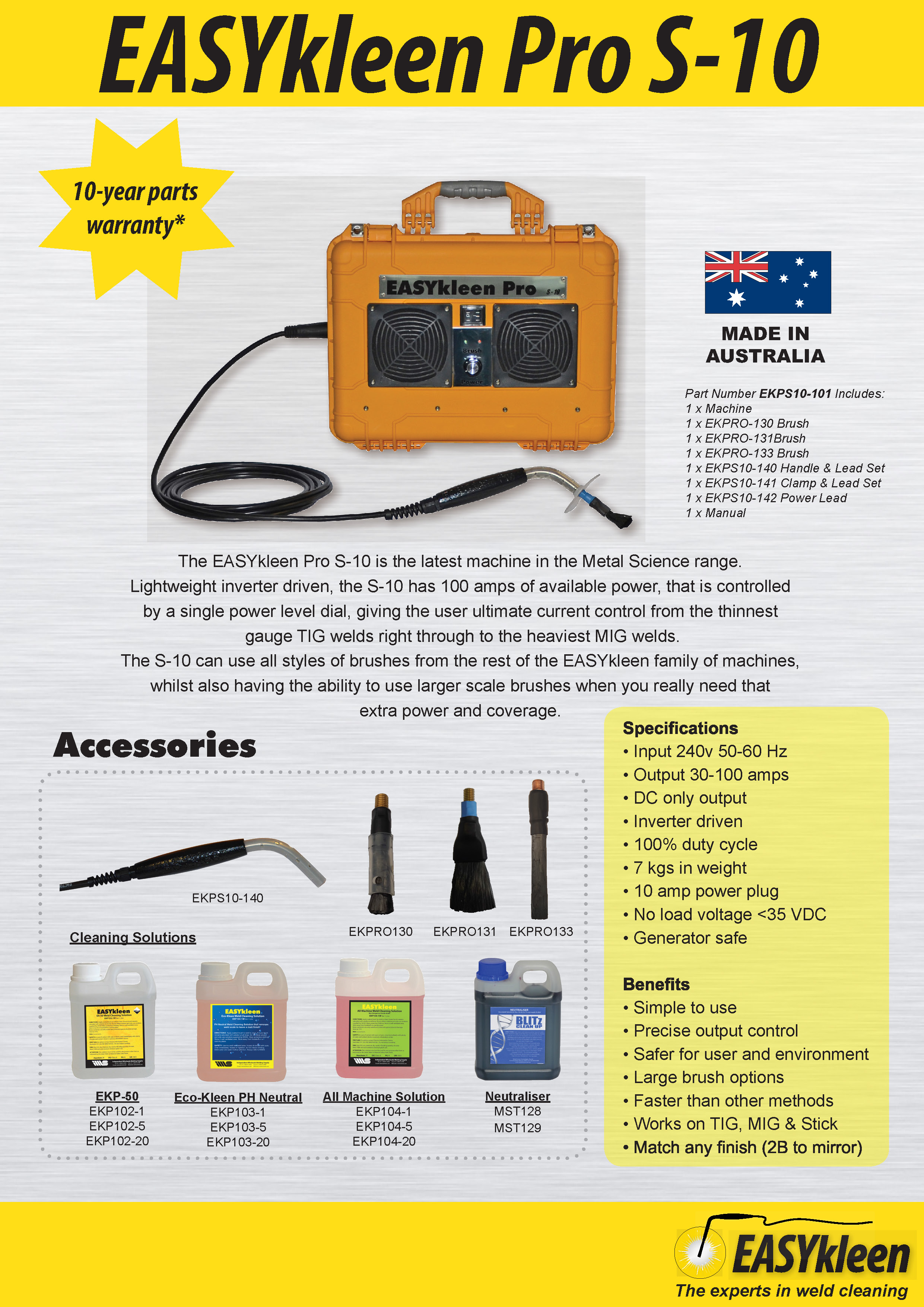 With a range of carbon fibre brushes to cover all types of weld geometry and with a twin transformer design and massive 80 amps of available DC output power, the EK-PLUS is a very cost effective unit whilst still providing the benefits of the electro-polishing process. Unlike cheap and inferior methods, the EK Plus system is scientifically proven to inhibit corrosion by avoiding the pitting associated with excess voltage and current.
• Input 240v 50-60 Hz
• Output 30-100 amps
• DC only output
• IGBT Inverter Drive
• 100% duty cycle
• 7 kgs in weight
• No load voltage <35 VDC
• Generator safe
• Simple to use
• Safer alternative
Brief Overview
Manufacturer

Branding not only helps you recognise quality products, a brand that has an Australian trademark can be tracked to a physical owner. This generally provides more certainty about the authenticity of a product because the contact details of the brand owner are on public record.

:
Warranty:
10 Year Parts Warranty

5 Years Parts & Labour
Power Requirement:
1 x 240 Volt 10 Amp Supply - Single Phase