This Australian manufactured unit is designed for light to medium use and features a full 5 year parts and labour warranty with 10 years total parts warranty also.
When you have finished that last weld on stainless steel with your tig brush away any surface dust and reach for an electroplishing machine weld cleaner that is both lightweight and very portable. 
The solution to labour intense, costly and dangerous post weld finishing and weld clean with pickling paste is the more powerful and
faster EASYKleen PLUS Brush. This unbelievably fast, electrochemical weld cleaning brush cleans welds in seconds and restores the chromium which is depleted when welding stainless steel. Fabricators no longer need highly toxic pickling paste.
The wave form of the DC not only improves the speed of the weld clean but the DC current delivers a more reflective finish and reduces the weld contamination risk of an AC current used on more traditional electrochemical machines. Furthermore the EASYkleen Plus Brush can deliver more amperes and voltage on its DC current which results in twice the cleaning speed of other brush dipping conductive cleaning systems.
The unique high power, positive fluctuating wave avoids the contamination risk and dull etched finish that low technology, cheap alternating current machines present.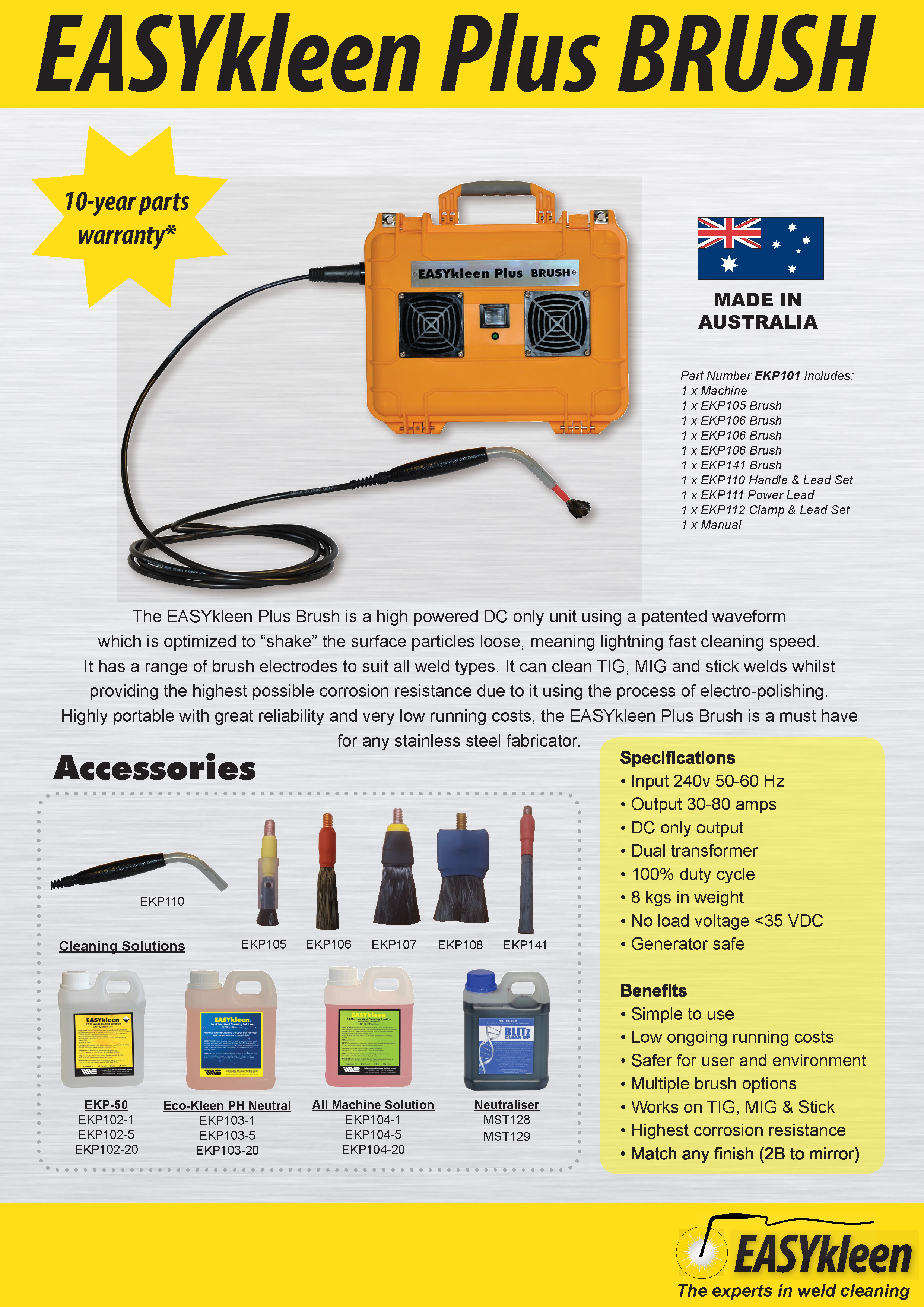 With a range of carbon fibre brushes to cover all types of weld geometry and with a twin transformer design and massive 80 amps of available DC output power, the EK-PLUS is a very cost effective unit whilst still providing the benefits of the electro-polishing process. Unlike cheap and inferior methods, the EK Plus system is scientifically proven to inhibit corrosion by avoiding the pitting associated with excess voltage and current.
• Input 240v 50-60 Hz
• Output 30-80 amps
• DC only output
• Twin Transformer driven
• 100% duty cycle
• 8 kgs in weight
• No load voltage <35 VDC
• Generator safe
• Simple to use
• Safer alternative
Brief Overview
Manufacturer

Branding not only helps you recognise quality products, a brand that has an Australian trademark can be tracked to a physical owner. This generally provides more certainty about the authenticity of a product because the contact details of the brand owner are on public record.

:
Warranty:
10 Year Parts Warranty

5 Years Parts & Labour
Power Requirement:
1 x 240 Volt 10 Amp Supply - Single Phase