Product Description
A multiprocess single phase 250 Amp inverter pulse mig welding machine , the Tokentools Metalmaster MIG250P is a digital controlled 240 volt Pulse MIG, Pulse TIG and MMA ARC Welder. This welding machine features DC Pulse MIG / DC MIG, DC LIFT ARC Pulse TIG, DC LIFT ARC TIG, DC MMA ARC welding processes. Additional features are stitch and spot timers for mig welding, reintroduced due to popular demand. With reversible polarity for gas and gasless mig wire use the Metalmaster 250P can be used with or without shilding gasses and the pulse welding feature makes it an ideal machine for aluminium welding.
The powerful output of this constant voltage (CV) and constant current (CC) power source is made possible by the proven reliability of our high efficiency 25 kiloherz IGBT quad core inverter matrix. The wire drive is smoothly driven by a pulse width modulated controller which features twin rollers enclosed within a metal gearbox. Other benefits include the push button mode selections, the ability to save presets into memory, automatic current throttling that cuts in at 250 Amps, digital volts display, digital amps display, hundreds of voltage selections in 0.1 volt increments. For thin sheet work or where the Mig torch simply cannot reach our optional spool gun is available in 5m or 8m lengths.
Pulse MIG welding has been simplified by allowing the operator quick access to the most recent setting so micro adjustments may be made on the fly. Different from standard MIG welding, the pulse feature allows two voltage characteristics, a ratio between them and a rate of repetition.
Peak Volts - The upper voltage that is used to provide penetration.
Base Volts - The lower voltage that is used to maintain the arc whilst allowing the material to cool.
Pulse Ratio - The amount of ratio of pulse vs base. Increasing this value gives more pulse / heat.
Pulse Frequency - The repetition rate of the pulse cycle. A value of 10Hz will provide 10 pulses per second.
Pulsed MIG welding can be used for joining both thick and thin sections of aluminium. During the pulse weld process on thicker material, a cooler weld puddle is formed when compared to the traditional spray transfer process, making it usable in all positions.

Thinner sections of aluminum benefit by the reduced risk of burn-through and warping by controlling the heat input very accurately. This control often allows for the use a larger diameter wire up to 1.2mm, which increases the rate of wire deposition and productivity. The welding operator can lay more weld metal into the joint imuch faster all without adding excessive amounts of heat. Pulsed MIG welding can also allow for faster wire feed and travel speeds, again increasing productivity, while simultaneously turning down the heat input leading to decreased residual stress and distortion.
For Tig welding processes simply connect the supplied TIG torch and press the push button trigger to activate the power output along with shielding gas, you are then ready to perform smooth lift arc TIG welding operations. When the operator touches the tungsten electrode to the workpiece the output current is reduced to only a few amps and this process avoids tungsten stick, the unfortunate result that occurs when Tig welding with a standard stick welder.Upon lifting the tungsten electrode away from the workpiece, the 32 bit microprocessor rapidly reacts and increases the current within milliseconds thereby establishing a strong Tig welding arc. The arc is further manipulated based on Tig mode, either standard or pulse. As with the Pulse MIG welding process, Pulse TIG welding provides a similar benefit for thick and thin material sections.
Huge MMA stick welding capacity is available and at 200 Amps DC, puts this 26 kilogram welding power source in the same league as Granpah's 300 kilo, 280 Amp buzz box AC arc welder. With arc force, hot start amps and hot start time, benefit from 21st century features with the confidence of owning a product backed by an industry leading 5 year warranty.
Away from mains? Generator use is assured but a 10 Kva unit with AVR (automatic voltage regulator) is a must. A large capacity fan ensures years of high duty cycle operation. An easy to use membfane control panel and steel case will provide superior protection against accidental bumps. All IGBT transistors are manufactured by Infineon, chosen for their ability to provide dependable power in the toughest of environments. Designed for precision PULSE MIG MAG TIG and MMAW applications for all weldable materials we believe this product is being offered at a price point that is affordable and a warranty that is market leading.
Product Features & Specification
Condition (?)
New
Brief Overview (?)
(
?
)
Branding not only helps you recognise quality products, a brand that has an Australian trademark can be tracked to a physical owner. This generally provides more certainty about the authenticity of a product because the contact details of the brand owner are on public record.
Metalmaster
5 Years Parts & Labour
1 x 240 Volt 15 Amp Supply - Single Phase
DC Tig Welding
Pulse Tig Welding
MIG Welding
Pulse Mig Welding
DC MMA Welding
Pre Flow Shielding Gas Timer
Welds Aluminium in MIG mode only
Welds Stainless Steel in MIG or TIG modes
Welds Other Metals Excluding Aluminium in TIG mode
Welds Other Metals Including Aluminium in MIG mode
Pulse Welding Mode
Adjustable Pulse Width / Duty
Adjustable Pulse Welding Frequency
Arc Force
Hot Start Amps
Hot Start Time
Post Flow Shielding Gas Timer
Preset Amps Control / Display
Stitch Timer Function
Spot Timer Function
Burnback Adjustment
Inductance Adjustment
Digital Memory
(
?
)
The inverter welder design is either IGBT or MOSFET
IGBT - Siemens / Infineon Power Transistors
L57cm x W23cm x H37cm
Weight - 26 Kilograms
Mig Welding Features
200 mm Spool (also known as 5 kilo for steel wire)
30 to 250
14 to 30 Volts DC
Adjustable in 0.1V increments ( For faster adjustment, push adjuster knob whilke turning to increase adjustment to 1V increments)
Yes - Adjustable Polarity
+ve electrode for gas and aluminium
-ve electrode for gasless wires
0.1 to 15 Metres Per Minute
Yes
Pulse Voltage - 14V to 30V
Base Voltage - 14V to 30V
Pulse Duty - 10% to 90%
Pulse Frequency - 10hz to 250hz
0.6mm / 0.8mm V Groove x 30mm Diameter - Included
1.0mm / 1.2mm U Groove x 30mm Diameter - Optional
Spot Time 0.1 to 15 Seconds
Stitch Time 0.1 to 15 Seconds
Tig Welding Features (?)
(
?
)
This is the method of arc ignition. It consists of pushing the start button on the torch to enable an automatic arc strike.
Touch Lift Arc Start
(
?
)
The ability to activate and deactivate shielding gas and also provide post flow
Electric Solenoid activates when torch trigger is pressed
Preflow - 0 to 5 seconds
Postflow - 1 to 10 seconds
(
?
)
The settings that enable control of the welding waveform
DC Pulse Width
DC Pulse Frequency
DC Amps 20 to 250
(
?
)
AC is used for aluminium welding and DC is used for other metals
DC
(
?
)
Amperage and frequency range available when using pulse welding mode
Pulse Amps DC - 10 to 250
Pulse Duty - 10% to 90%
Base Amps DC - 10 to 250
DC Pulse Frequency - 0.1Hz to 500Hz
(
?
)
A feature required if you wish to use a variable amps torch or else a foot pedal
No
MMA Welding Features (?)
10 to 200 Amps
(
?
)
The current waveform is either AC or DC. DC is preffered as it is delivers constant welding power to the electrode and provides ease of start when using cold electrodes.
Arc Force
DC
MMA - No VRD Fitted
Hot Start Amps
Hot Start Amps Time
Duty Cycles
160 Amps @ 100% Duty
200 Amps @ 60% Duty
250 Amps @ 35% Duty
160 Amps @ 100% Duty
200 Amps @ 60% Duty
250 Amps @ 35% Duty
130 Amps @ 100% Duty
160 Amps @ 60% Duty
200 Amps @ 35% Duty
What is in the box?
1 x Metalmaster 250P Inverter MTS Welding Power Supply
1 x 3 Metre MB 25 Binzel Mig Torch
1 x 4 Metre Binzel Compatible 26 Series Ergonomic Tig Torch
1 x 3 Meter MMA Twist Lock Torch and Cable
1 x 3 Meter Job Clamp and Cable
1 x Reinforced gas Line
1 x Mig Accessory Kit (Tip spanner + 2 spare tips)
1 x Tig Torch Accessory Kit
1 x Instruction Manual
Videos
Product Manual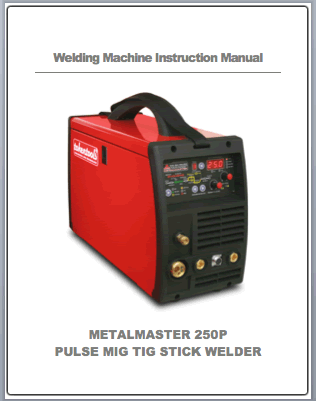 This product manual is provided in a high resolution format for easy internet download and viewing, the file size is 39 Megabytes, click on the image above to begin the download process. A colour printed manual is provided with the welding machine also.
Shipping & Warranty
Warranty
This welding machine includes a 5 year (60) month warranty against manufacturing faults and defects however the customer has the ability to reduce the warranty period in order to obtain a greater discount. In circumstances where the customer elects to take a 2 Year or 1 Year warranty the 5 Year warranty will no longer apply and instead the selected warranty period along with applicable discount will apply and such direction will be noted on the sales invoice.
All welders for sale by Tokentools.com.au are covered by Consumer Guarantees that cannot be excluded under the Australian Consumer Law. You are entitled to return any item that is deemed faulty within a reasonable timeframe from the date the sale agreement took place. If an item has a minor defect, we will provide a repair or offer you a replacement or a refund. If an item is found to have a major manufacturing defect, you are entitled to receive an identical replacement or one of similar value, receive a refund or keep the goods and receive compensation for any other reasonable foreseeable loss or damage. For more information about your rights as a consumer, see the Australian Consumer Law website at http://www.consumerlaw.gov.au
Delivery
Our products are typically despatched from our warehouse on the same day if payment is made before 2PM.
All of our orders are despatched quickly. We don't like you to wait for your purchases. In fact over 90% of deliveries to major metro areas across Australia's East Coast arrive within 2 business days from the day we confirm payment (that's same day for credit card and PayPal orders). West Coast orders take 4 days longer. If you live in a regional area then we suggest you allow up to 4 additional days for your goods to arrive. A tracking number will be emailed to you upon shipping of your product and you will be able to get an ETA delivery date fro that source
This welding supply is also available for pickup from our showroom located at Unit 6, 9-11 Willow Tree Rd Wyong NSW 2259 during opening hours. See the pickups information for more details.
Product Reviews
Customers Also Purchased
Welding Product Taxonomy